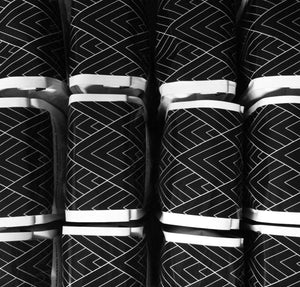 That's our coffee. We are so glad you found us.

Remember when coffee tasted like coffee? So do we. Let us take you back in time to when coffee was strong, and it was freshly roasted just for you.

We roast only the very best 100% organic beans. We also insist on purchasing only ethically grown and harvested coffee. We are doing everything we can to ensure our coffee is respecting people and the environment at every turn. We purchase only 'micro-lot' coffee, from small farms around the world. This gives us access to unique and delicious coffee that in some cases, no one else on earth is able to enjoy. By buying from a local roaster, you are supporting local agriculture on a global scale.

Our coffee represents old traditions in both flavour and production. We roast beans that are thoughtfully grown and offer them to you at the peak of freshness. The best way to enjoy a cup is with freshly ground beans that have been stored in an airtight container.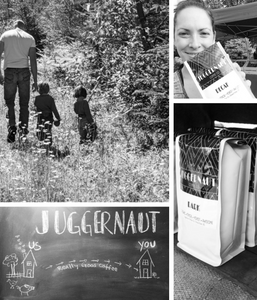 ABOUT US
Hidden away in the very best place you've never heard of, on the homestead of your imagination, live the Mitchells - Katie, Dave, Sadie and Jolene. Katie has a background as a chef. She spent 10 years working in busy, high-end Vancouver restaurants and then as a baker in a bakery run by her best friend in their home town of Merritt, BC. Katie and Dave have been roasting their own coffee for years - desperate for coffee made the right way - hand roasted, in small batches, and enjoyed fresh.

After moving to Grand Forks and having their twin girls, the Mitchells decided they wanted to create a business that would allow them to be home with their daughters and doing something they loved. And so, Juggernaut was born.

After a few short months roasting coffee on a barbeque over an open flame for their small number of local customers, word got out and they quickly grew. So, they renovated an old bunkhouse just outside their back door to create a cozy roastery. Now they serve a small list of very lucky customers and businesses throughout Canada.